Residential Installations
Every home needs heating, ventilation and air conditioning equipment, and the journey to finding the right product for your home can be difficult. With so many options out there it can get confusing, but with Climate Care, we take our combined 75 years of industry experience to walk you through the process. We pride ourselves on having skilled and trustworthy technicians.
To ensure safety, we have performed background checks on all technicians. No matter if you need a full heating & air conditioning system replacement or are simply looking to add an accessory item such as a whole home humidification system or media air cleaner, we are here to help.
Call us today at (410) 793-0202 – or Schedule a Free Estimate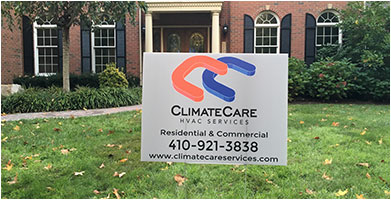 Air Conditioning
Gas & Oil Furnaces
Heat Pumps
Mini-Splits/Multi-Splits
Boilers & Water Heaters
Through the wall units
In-Home Air Quality Accessories
Humidifiers/Dehumidifiers
Programmable Thermostats/Wi-Fi Capable
New System Design & Installation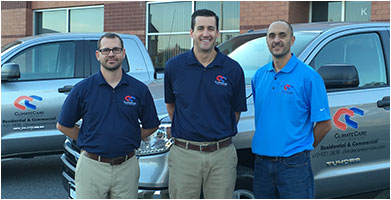 Properly identified technicians & vehicles
Friendly, trustworthy & respectful technicians
Installation per manufacturer's instructions
Supervised & well organized installations
Use of drop cloths on all surfaces
Removal of all old equipment
Clean and trash free upon completion
Owner satisfaction survey
Highly Recommend!! ClimateCare provides outstanding customer service and they ensure that your problem is fixed to your satisfaction. They are very responsive, knowledgeable and take great pride in providing quality workmanship. Would not hesitate to call ClimateCare for any future HVAC needs.

Alan Fletcher, (Annapolis, MD Resident)
Thrilled with the work done by Climate Care. My 17 year old air conditioner went out and it made sense to replace the gas furnace at the same time. I did my research and received multiple quotes for the work. Climate Care was far and away the most reasonably priced. They even went out of their way to secure a particularly hard to find unit I was set on, which two other companies said was not stocked in our region. Bottom line, it was a great experience working with Climate Care, I recommend them highly!

Brian Flynn (Edgewater, MD Resident)
I was nervous when faced with having to replace both my heating and air handling systems. I had gotten a couple of quotes, which confirmed that fear. Then I spoke with Steve and his team. They literally saved me $10,000, by recommending the system that was best for me, not just the most expensive, like the other guys had. And, the installation couldn't have been handled any better either.

Mike Foundos (Annapolis, MD Resident)
I was very pleased with all services provided by Climate Care. They have helped me with HVAC needs for my home and rental properties, always extremely friendly and knowledgeable. Phil was very professional and answered all my questions. I will definitely recommend Climate Care to family and friends!

Ryan Eckenrode (Edgewater, MD Resident)
When I was out of town on work… our main Air Conditioning unit decided it was time to take a vacation. With the family at home and the heat building up quickly, I needed solutions quickly and I needed someone I could trust. Climate Care addressed the problem, provided a range of solutions based on our need and implemented them immediately. It's more than getting the job done, it's the manner in which they executed the job. There was no haggle, it was the best value, Phil was the most talented technician we have encountered and most importantly it was the best customer experience we have ever had with any business or service period.

Jason Hawk, Army Fighter Pilot (Andrews AFB)
Lee, I want to thank you and your team for your exceptional work and most of all the courtesy and outstanding professionalism. I am recommending you to a friend of mine. I cannot express enough my gratitude how you went out your way to lend us your air conditioner until ours was installed, I am flabbergasted by your kindness, it was nothing I've seen before from a salesman. I feel like I've know you forever. Again thanks for everything you, Phil and Randy have done. Your team put a good face on your company. Thanks again.

Jonathan D, (Bowie, MD Resident)
Mr. Lee was very courteous he understood my situation and worked with me. Outstanding professionalism well mannered. We are extremely satisfied with the work and we will recommend to our friends.

Andrew T. (Bowie, MD Resident)
ClimateCare worked with me to give me the best product and price for my need.

Homeowner (Silver Spring, MD Resident)

We represent Trane as our premier product line although have access to all major brands. If you require financing, we have multiple options to fit your needs. Whether you're looking for a high efficient system or simply a work horse, we have the right option to fit your budget. Sometimes the best solution is not always the most expensive one, we pride ourselves on trust, and only providing what makes the most sense for the application. It's not about us, it's about you. Our primary goal is to determine what your needs are, whether you're goals are to achieve lower energy bills by choosing high efficiency equipment, or maybe someone in your home has allergies and indoor air quality is at heart. When it comes to pricing, we follow the "good, better, best" process and will always offer at least three price points.
Financing Available
Call us today at (410) 793-0202 – or visit this page to Schedule a Free Estimate